HELLO GOODBYE

MOJO Magazine
August 2004
As told to James McNair

It began as a marriage of convenience and ended with an earthquake.
This month we say 'Hi!' and 'Bye!' with Christine McVie and Fleetwood Mac


HELLO
August 1970

I'd married John McVie and just prior to that Peter [Green] had left the band. That devastated them, but Mick [Fleetwood], John, Danny Kirwan and Jeremy Spencer were trying to carry on as a four-piece. After Chicken Shack, I'd had a brief skirmish with a solo career, and then become a housewife. Fleetwood Mac were rehearsing for the album Kiln House and all us wives, kids and pets were living there, too. It was a rambling old oast house; you can see it in the pin sketch I drew for the album cover.

The band decided that they needed to augment their sound. And because I was living with them, I knew the songs. One night at dinner they said, "How about joining the band, Chris? We're desperate!" There was no audition or anything; it was a case of them liking my voice and my keyboard-playing and knowing what they were getting.

Ten days later we were performing in New Orleans at a club, The Warehouse. I'd never been to the US before and I felt jet-lagged and under-rehearsed. It was nerve-wracking and frenetic, and I was in a band with my idols and I'd married one of them and our marriage was very happy at that stage.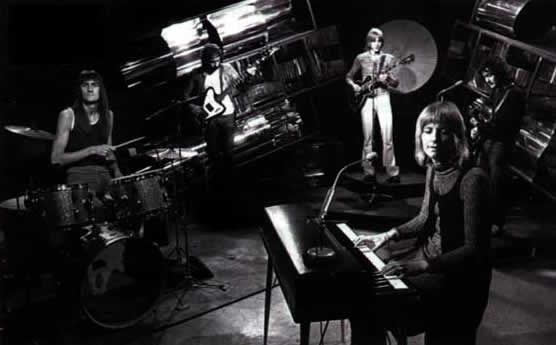 GOODBYE
February 1998

It started back in 1994. I'd been living in LA for 20 years, and there was another big earthquake. It terrified me, I felt I had to walk around wearing a seat belt. I realised that I missed my roots and wanted to come back home to England. It took several years to organise, but that earthquake was the catalyst. I also thought that we, as Fleetwood Mac, had had out time and written our best songs. That may not be true, and now I'll never know, but after 25 years service and the death of my father, it was the time to move on. I said I'd do [1997's] The Dance album and tour, but that I was definitely leaving after that. We'd played Don't Stop at Clinton's inauguration and then decided to do something with the Rumours line-up [ie, Lindsey Buckingham and Stevie Nicks] back together again. The tour was hugely successful and great fun, but for me, part of the excitement came from knowing that it was my last tour.

The last proper gig we did was in Atlantic City in November, 1997, but then we played at The Brits in 1998 when we got that Lifetime Achievement Award. The sound-check the night before sounded rubbish, but we pulled it off on the night. We'd already said our goodbyes on tour, so we all whizzed off in difference directions almost straight after the show.

I'm often in touch with Mick and occasionally speak to Stevie, but not so much Lindsey, and John [John and Christine divorced in 1977]. I still have a tender affection for all of them, but they were slightly miffed at my leaving. When they played here last year I saw them at Earl's Court. They were bloody great. For the first time in my life, I was able to see Fleetwood Mac as others saw us. I went backstage to see Stevie, and she said, "Oh, Chris, I am so knackered!" Music is her life, and she's still brilliant at what she does, but I don't have the slightest twinge of envy.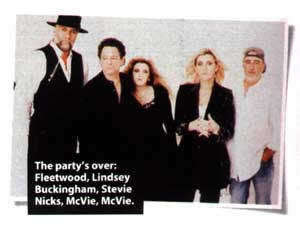 Transcription courtesy of Sharon
Photos courtesy of this website